After heavy rains, it is not typical for flooding in the basement. Therefore, if you do see water in coming in, basement flood cleanup is an important step to prevent property damage and mold. The good news is, if you do it right the first time, you can dry your basement out without the worry of mold growth within 24 hours. The bad news is, without proper waterproofing, it will probably happen again with the next heavy rain.
Proper Steps for Basement Flood Cleanup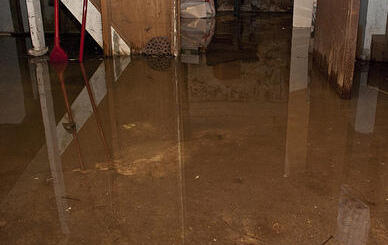 Remove Standing Water – After the rain has stopped, use a wet vac to remove all the standing water from your basement. If the water is over 2 inches deep, you can use a sump pump for faster basement flood cleanup. However, if your electrical panel in that area, you should be very cautious when using any electrical units around water.
Debris Cleanup and removal – Once you have removed all the standing water in your basement, it is time to begin the process of cleanup. The cleanup process will include removal of dirt, mud and silt residue. Only use floor cleaners for indoor floor cleaning. You'll know you're finished when the water you're using to clean with is clear.
You can now begin the dry out process. Be sure to wear a mask if you have sensitivities to mold. Especially if it has been more than 24 hours since the flood.  Floor fans will be beneficial for drying. However, never use heat for drying. Heat will only encourage microbial growth. Dehumidifiers are always a bonus and your best friend during the dry out process.
Furthermore, if you have a finished basement with drywall and flooring, you may want to seek professional help from a mitigation company who can do a professional dry out. Be sure to note, if your basement flooded from rainwater, it won't be covered by insurance, unfortunately.
Basement Waterproofing System – If your basement floods during heavy rains, it's time to install a basement waterproofing system to prevent further property damage. Most professional installers will give you a free estimate with a quick inspection.
Call The Waterproof Group for a FREE inspection and quote on basement & crawl space waterproofing and foundation repair at 678-223-4948 .